Waiting on Wednesday is a weekly meme hosted by Jill at Breaking the Spine, where we bloggers get a chance to feature upcoming releases that we can't wait for!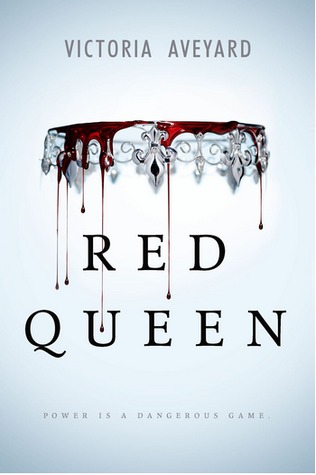 Find the book: Goodreads | Amazon | Barnes & Noble | Book Depository
Release Date: March 26, 2015
Mare Barrow's world is divided by blood—those with red and those with silver. Mare and her family are lowly Reds, destined to serve the Silver elite whose supernatural abilities make them nearly gods. Mare steals what she can to help her family survive, but when her best friend is conscripted into the army, she gambles everything to win his freedom. A twist of fate leads her to the royal palace itself where, in front of the king and all his nobles, she discovers a superhuman ability she didn't know she had.

Except . . . her blood is Red.

To hide this impossibility, the king forces her into the role of a lost Silver princess and betroths her to one of his own sons. As Mare is drawn further into the Silver world, she risks her new position to aid the Scarlet Guard—the leaders of a budding Red rebellion. Her actions put into motion a deadly and violent dance, pitting prince against prince and Mare against her own heart.
I'll admit that this mind-bogglingly awesome cover is what first drew me to this book. My heart is very easily captured by great cover designs. I mean, the beautiful and powerful minimalistic layout with the stunning, eye-catching crown in the middle dripping with blood – all of this is just brilliant. Plus, the cover's tagline, "Power is a dangerous game", promises lots of deadly intrigue.
I am a sucker for all sorts of political intrigue in fantasy. I will eat it all up.
Anyhow, I would've read this book on the cover alone. I was completely sold. But then I read the synopsis.
SO MUCH YES.
There are clear social class conflicts, a heroine with concrete and meaningful goals, high stakes, and a beautiful sense of aesthetic all wrapped up into a few short paragraphs. These are all things I thoroughly enjoy, so I have really, really high hopes for this book.
So basically: WHY MUST I WAIT UNTIL MARCH. WHAT IS THIS CRUELTY.
There's our first Waiting on Wednesday! What are all of you waiting on? Let us know in the comments!