(NOTE: I know I haven't reviewed the first two books, but I did read them before this blog existed. I hope to have reviews of those on this blog someday, but for now I'm sharing my thoughts on the third book.)
(NOTE: This review will no doubt contain spoilers for Throne of Glass and Crown of Midnight. If you haven't read the first two books, DO NOT PROCEED. GO READ THE FIRST TWO BOOKS INSTEAD, because you will not regret it.)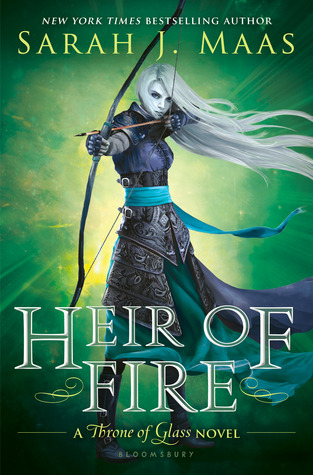 Reviewer: Christina
Release Date: September 2, 2014
Publisher: Bloomsbury USA Childrens
Age Group: YA (although could cross over into NA due to age of heroine)
Genres: High fantasy
Pages: 565 (hardcover)
Format/Source: Hardcover, borrowed from library
Find the Book: Goodreads | Amazon | Barnes & Noble | Book Depository | or look for it at your local indie!
Rating: 5/5 Stars
Lost and broken, Celaena Sardothien's only thought is to avenge the savage death of her dearest friend: as the King of Adarlan's Assassin, she is bound to serve this tyrant, but he will pay for what he did. Any hope Celaena has of destroying the king lies in answers to be found in Wendlyn. Sacrificing his future, Chaol, the Captain of the King's Guard, has sent Celaena there to protect her, but her darkest demons lay in that same place. If she can overcome them, she will be Adarlan's biggest threat – and his own toughest enemy.

While Celaena learns of her true destiny, and the eyes of Erilea are on Wendlyn, a brutal and beastly force is preparing to take to the skies. Will Celaena find the strength not only to win her own battles, but to fight a war that could pit her loyalties to her own people against those she has grown to love?
The Internet hype monster has been all over this book, it's true. Heir of Fire is the third-book in the much-loved Throne of Glass series, and it's been hailed as the new YA high fantasy masterpiece, a massive, potential-murder-weapon kind of novel with a little something for everyone. But I was doubtful, like many who've been cheated by over-anticipating a book. I really enjoyed Throne of Glass and Crown of Midnight, but I didn't adore them to the utter-fangirl level that many others did. This meant that I was trying to keep my expectations middling for Heir of Fire in case the book failed me. I was afraid when I started reading.
So I'm really, really happy to say that I think the hype, this time around, is totally right. (I'm going to try reviewing with minimal fangirling. We'll see how that goes.)
This review will be mildly spoilery. Very, very mildly. Mainly it'll be a fangirly explosion.
The first and most important thing about Heir of Fire in terms of series is that there is character development like WHOA.
Thanks to @SJMaas I'm now in platonic fangirly love with every single HoF POV character and I WILL PROTECT THEM AT ALL COSTS. #amreading

— christina (@clocksandcages) October 20, 2014
This development is especially big for Celaena. I mean, I liked but didn't love her in the first two books, and then THIS CAME. I am now prepared to swear allegiance to this girl and serve her as my queen. I'm in utter awe of how Maas managed to make her so much more mature over the course of a single book, how Celaena went from the depths of self-hatred and shame to blazing certainty and determination. Celaena's hard-won courage is marvelous and such a privilege to read, and that honestly packed the biggest punch in this book. She goes from borderline suicidal to absolutely intent on living her life to the fullest. She is so devoted to her purpose, so passionate about it, that I just had to cheer for her with every little victory. I also absolutely adored the way Celaena admitted to herself and to everyone else that she had a dark side and, instead of trying to eliminate it, embraced it. She made a statement to the reader that she has power, whether we think that power is good or bad. She wants to be loved and feared. You're either with her or against her, and screw the consequences. That's important, because this is a YA heroine being allowed to have moral gray areas, and that doesn't happen nearly enough.
We NEED more girls like this in YA. In literature as a whole. They are out there and we need to acknowledge them with narratives like this one.
One of the new characters who was introduced in Heir of Fire was Manon Blackbeak, and I'll start out by saying that she is pretty much my life goal. Another YA girl (okay, so "girl" is a stretch) with a dark side. Also a witch. Basically death incarnate.
(A lot of characters in this series are death incarnate. It's awesome.)
Manon pretty much has an entire arc all to herself, complete with wyverns and blood and rivalry. She is heartless and just about invincible, and everyone else just has no choice but to admit that she's awesome. I fell head over heels for her world and the characters surrounding her.
Another new character is this totally unexpectedly lovable Fae prince named Rowan Whitethorn, and HOLY CRAP. LET'S NOT EVEN GET STARTED. He's just about the liferuiner to ruin all liferuiners. The character dynamic between Rowan and Celaena is absolutely A+, although it did result, at least for me, in that exquisitely painful conundrum of "I'm really happy with their platonic friendship and think it's great that the author promotes the idea that guys and girls can be friends, but at the same time I really just want them to kiss already". I know that ships already exist for Celaena (let's face it, how can they not when this series is essentially swoony boy paradise), but her relationship with Rowan just attacked me with feels. Rowan is such a well-written character, and I mentally tackle hugged him several times.
The other supporting characters got a nice chunk of page time, too, which I loved. Mostly, this meant that Dorian and Chaol made stunning leaps in development back in Adarlan. ESPECIALLY. DORIAN. I actually kind of disliked him in the first two books, but dang, two thumbs up for this guy now. I liked how Chaol was handled, too, and it was good to see him earn some solo action (or, as the case is here, solo crazy trouble and deep personal issues). We get to see more of everybody's least favorite tyrannical king, too, and I swear he gets progressively scarier with each page I read him on.
Also, the other additions to the cast (other than the ones I've already talked about, Manon and Rowan) were stunning (I'm looking at you, Aedion). I am so looking forward to getting to know them better and seeing how they all connect to one another in future books. Maas did a great job of fitting in the necessary complexity in the groundwork of these characters without ever being overwhelming. I'm excited. I can just see the convoluted plotline this is going to produce. *cackles*
With this huge group of characters, you think, it must be hard to keep track of them all. NOT TRUE WITH SARAH J. MAAS, APPARENTLY. The perspective switches a lot in this book, but Maas has the most uncanny instinctual knowledge (superpower? definitely) of where to cut off one scene and switch PoVs. So I never once got confused, and that was the best feeling.
On top of all this, I feel the need to include a shoutout for the drop-dead beautiful writing and worldbuilding. With its sweeping descriptions, searing tension, extremely feels-inducing climactic scenes, and extraordinarily well-timed bits of humor, this is some of the best high fantasy-style prose I've read in a long, long time. It's very tight and very much tied to emotions, and it never gets dry or boring. Even when the story might have lagged a little plot-wise, I had so much fun reading the sentences themselves that I didn't notice. Plus, worldbuilding. WHOA. In this third book, I finally got the sense that this is a story of the rise and fall of kingdoms and the amazing people who make that happen. Every culture was rich, and the place names were manageable, and everything was awesome. I just… I'd like to look inside Maas's head, just once.
So Heir of Fire basically DESTROYED MY FEELS. THEY'VE GONE ALL OVER THE PLACE. Read it and feel my pain.