(NOTE: Yes, I know we don't have reviews of the first two books in this series on this particular blog. That will happen… someday. I hope. If you'd like to guest review them, please shoot us an email.)
(NOTE: There will probably be spoilers for The Raven Boys and The Dream Thieves in this review. If you haven't read them, GO READ THEM because they come highly recommended.)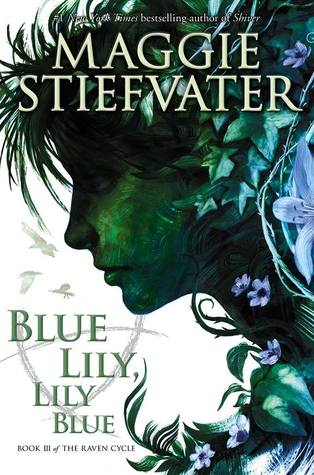 Reviewer: Christina
Release Date: October 21, 2014
Publisher: Scholastic Press
Age Group: YA
Genres: Paranormal? (no one knows, I'm telling you. NO ONE KNOWS.)
Pages: 391 (hardcover)
Format/Source: Hardcover, borrowed from library
Find the Book: Goodreads | Amazon | Barnes & Noble | Book Depository | or look for it at your local indie!
Rating: 5/5 Stars
There is danger in dreaming. But there is even more danger in waking up.

Blue Sargent has found things. For the first time in her life, she has friends she can trust, a group to which she can belong. The Raven Boys have taken her in as one of their own. Their problems have become hers, and her problems have become theirs.

The trick with found things, though, is how easily they can be lost.

Friends can betray.
Mothers can disappear.
Visions can mislead.
Certainties can unravel.
Those of you who know me well (or, y'know, follow me on Tumblr) know that I am absolutely in love with The Raven Cycle. Every bit of it.
Naturally I was… excited for Blue Lily, Lily Blue, to say the least. And I wasn't disappointed. If I were you, I'd brace myself for an explosion of fangirling, because that's what you're going to get with this review: a whole lot of flailing and not that much analysis.
First we should talk about Blue Sargent, because HOLY BATMAN. She is, at least for me, one of the most relatable YA heroines I've ever come across, other than all the psychic-family stuff. She's a raging feminist and a weird-but-cool not-outcast at school and a teenage girl deeply passionate about the things she loves – and in the end, a stubbornly kind human being fighting her heavy, heavy fate and struggling to find her place in the world. She totally came into her own in this third book and I could feel her getting more powerful through the pages. Her storyworld threw a lot at her – a missing mother, college worries, boy problems (of many different kinds), and her ever-troubling lack of psychic powers. I felt like this was the first time where she truly and recklessly went, "Well, screw all of that" and found her own way through her issues. Fate was not her master and that earned two thumbs up from me. Her emotional complexity exploded because of that newfound bravery and because of her gradually deepening relationship with The World's Preppiest Magic Nerds.
Plus, her sass factor just went off the charts. It was great, because heroines with sass are my lifeblood.
I also feel that we need to include a substantial segment on Richard Campbell Gansey III, because he is my love and I will defend him with my life. I know that the Raven Cycle fandom is conflicted about Gansey – some people are as crazy about him as I am, and others absolutely loathe him – but I think we can all agree that he's a fascinating yet confusing character. Something inside him always wants to be more, to find more, to build himself into that ideal Gansey and have some measure of control over his usually tumultuous surroundings. Sometimes his friends resent that. Sometimes they support it. But they're always anchored by his idealistic (sometimes to the point of naivety), scholarly presence and his desperation to be the good, noble figure that everyone builds him up to be.
Also he just radiates adorable awkwardness.
Which leads me straight into the abyss of Blue x Gansey angst that I swear I'll never escape from. I just about cried in agony every time they were in the same room in this book because there is so much unresolved tension between them. It's obviously very difficult for my shipping heart if there's a giant ominous fortune of doom preventing my OTP from kissing.
Adam changed in a lot of weird ways, but I felt that it was all ultimately for the better. His personality shifted a lot – it sounds cliché, but I felt like Adam was finally finding his true self buried underneath all that baggage he sorted through in The Raven Boys and The Dream Thieves and dang, it felt good to finally see that happen for him.
Ronan's the snake with a poisonous bite, now and forever, but he gets increasingly lovable with every book. He has secrets and sharp parts and soft parts of himself that he's trying to sort through and figure out – sometimes I think even he doesn't understand himself. But he is ferocious and downright mean at times and deep down very, very kind.
By the way, Adam and Ronan are just a liferuining ship. There's no way around it. The shopping cart scene was both adorable and painful (you'll understand when you read this book, I promise) and their character dynamic – ugh. They just fit together, you know? They're Cabeswater's magicians and they're amazing and otherworldly and raw. Bruised but never, ever broken. The way they bond in Blue Lily, Lily Blue is precious and flail-making.
Also there were people in the fandom who doubted that Adam/Ronan was a thing and now it's been made very, very clear. I feel just a little bit vindicated about that.
A lot of exceedingly odd stuff went down revolving around Noah in this book, which both intrigued and terrified me. Mainly because WHERE IS MY ADORABLE GHOST/PUPPY AND WILL HE BE OKAY? A little of the dark side of his ghost status showed, and it made me uneasy. I'm hoping he'll be a little more back to his old self in RB4, because if something terrible happens to him, my heart will shatter.
Aaand when you throw all of these awesome characters together you get some seriously soul-crushing and beautiful emotional bonds. There's a Gansey-Ronan-Adam scene in particular that will make you cry with joy. Ronan and Blue's friendship developed a lot, which was super cool. THERE IS SO MUCH ROMANTIC AND PLATONIC GOODNESS TO BE HAD HERE. Basically all you need to know about the quality of the friendships in this series can be summed up with this (quote courtesy of Goodreads):
"You can be just friends with people, you know," Orla said. "I think it's crazy how you're in love with all those raven boys."

Orla wasn't wrong, of course. But what she didn't realize about Blue and her boys was that they were all in love with one another. She was no less obsessed with them than they were with her, or one another, analyzing every conversation and gesture, drawing out every joke into a longer and longer running gag, spending each moment either with one another or thinking about when next they would be with one another. Blue was perfectly aware that it was possible to have a friendship that wasn't all-encompassing, that wasn't blinding, deafening, maddening, quickening. It was just that now that she'd had this kind, she didn't want the other.
(Actually no. There are other amazing quotes of amazing that I could throw at you but that does too much to everyone's feels. So I won't. And you'll just have to take my word for it.)
The ladies of 300 Fox Way, of course, are as kick-butt and mysterious as ever. I don't even need to explain their awesomeness, especially if you've already encountered them in previous books. Their perfect blend of eccentricity and power is pretty darn great.
Also we should mention the Gray Man because former hit men with hearts of gold who recite Old English poetry are everything I never knew I needed. His relationship with Maura is definitely a mom ship done well (as opposed to mom ships that go HORRIBLY AWRY as some in other books have), and the fact that he makes a genuine effort to be friends with Blue is totally awesome.
The new characters are super intriguing – especially Gwenllian and Piper Greenmantle. I can't describe them much for fear of giving away spoilers, but basically they are two fascinating women who do not give a f*** about what anyone thinks of them.
(Psst. Short shoutout to Jesse Dittley for calling Blue a "good sort of ant" and because his ALL CAPS DIALOGUE ALMOST HAD ME IN TEARS OF LAUGHTER.)
BUT. While the new and old characters were absolutely lovely, I miss Kavinsky desperately for some weird reason and am very sore over his death. COME BACK TO US, YOU DESPICABLE MITSUBISHI DREAMER.
Cabeswater just keeps getting weirder, but I'm so excited to see how Blue and the boys fit into the grand scheme of the network of magic laid beneath their feet. Plus. PLUS. The lily landing on Gansey's mouth in the first scene. UGH. CABESWATER KNOWS ALL.
Maggie Stiefvater's writing style is as effortlessly amazing as it always is (I mean, what else was I expecting but still), with just the right balance of humor and beauty. There is really nothing to do here but bow down.
Basically, this third installment in The Raven Cycle gave me all the feels and I highly recommend it. Maggie Stiefvater is one of my favorite authors, and this book only reinforces my high opinion of her work. And the cliffhanger. THE CLIFFHANGER.
One last note for those of you who've read the book:
SQUASH ONE, SQUASH TWO, SQU—